25th Christmas market in the Chateau de Brissac
23th and 24th November 2019
One of the most ancient and original Christmas markets in western France. Each year The Chateau welcome this Christmas market and faithful visitors.  
On the Saturday 23th and Sunday 24th 2019 you can visit Father Christmas and more than fifty Christmas stallholders in the Chateau de Brissac.
You will experience the magic of Christmas trees, decorations and the aroma of brioches, chocolate and mulled wine.
Beneath the Venetian chandeliers of the Golden drawing room and the wonderful painted ceiling of the guard's room, craftspeople from all over the country come to present their wooden toys, decorative items and precious dishes to bright-eyed little princes and princesses.
Practical information: 
Times: Saturday 23th : from 2PM to 8PM
Sunday 24th : from 10AM to 7PM
Prices: Adults: single reduced rate 8€50
Children (from 2 to 12) : 2€
On Saturday at 2:30 PM you can witness the extraordinary arrival of Father Christmas. He will be in the chateau all week end to welcome the children.
70 art exhibitors – Free shows: magical shows, throw of candies, Christmas snacks.
Dogs are not allowed in the Chateau and pushchair must be let at the tent at the foot of the chateau. 
It is not necessary to reserve.
Magical Christmas Decorations
From the 21th of December to the 5th of January 2020
During the Christmas holidays come and admire the sumptuous Christmas decorations and illuminations which are installed throughout the tour of the château.
Every day (except 25th December and 1st January)
2 guided tours each afternoon at 2PM and 4PM
Single reduced rate: 8,50€
Free for children under 16
Les Floralies de Brissac
Du vendredi 12 au lundi 15 avril 2019
Mariage de la grâce et de l'histoire, mais aussi de la fleur et de la pierre, cette compétition unique en France, célèbre avec éclat l'arrivée du printemps.
Dans les salons et les galeries du château, 25 compétiteurs – fleuristes professionnels talentueux accompagnés de leurs assistants  - vont devoir faire preuve d'imagination pour réaliser autant d'œuvres, façonnées par leurs mains expertes.
Monumentale, éphémère et unique, l'œuvre devra  respecter le thème choisi pour l'édition 2019 : « âme d'artiste ».
Organisée par le Société Angevine Piverdie, cette compétition met à l'honneur l'art floral dans un décor historique qui le sublime.
Pendant quatre jours, le public est invité à se promener librement dans le château. Chaque visiteur reçoit un bulletin de vote avec lequel il pourra exprimer sa préférence pour élire la composition qui se verra attribuer, a l'issue de la compétition, le prestigieux Prix Coup de Cœur du Public.
De 10h00 à 17h00
10 € -  8 à 16 ans 04,50 € - Moins de 8 ans gratuit
Compris la visite du château et du parc
Il n'est pas nécessaire de réserver
Great Easter egg hunt
Sunday 21th April 2019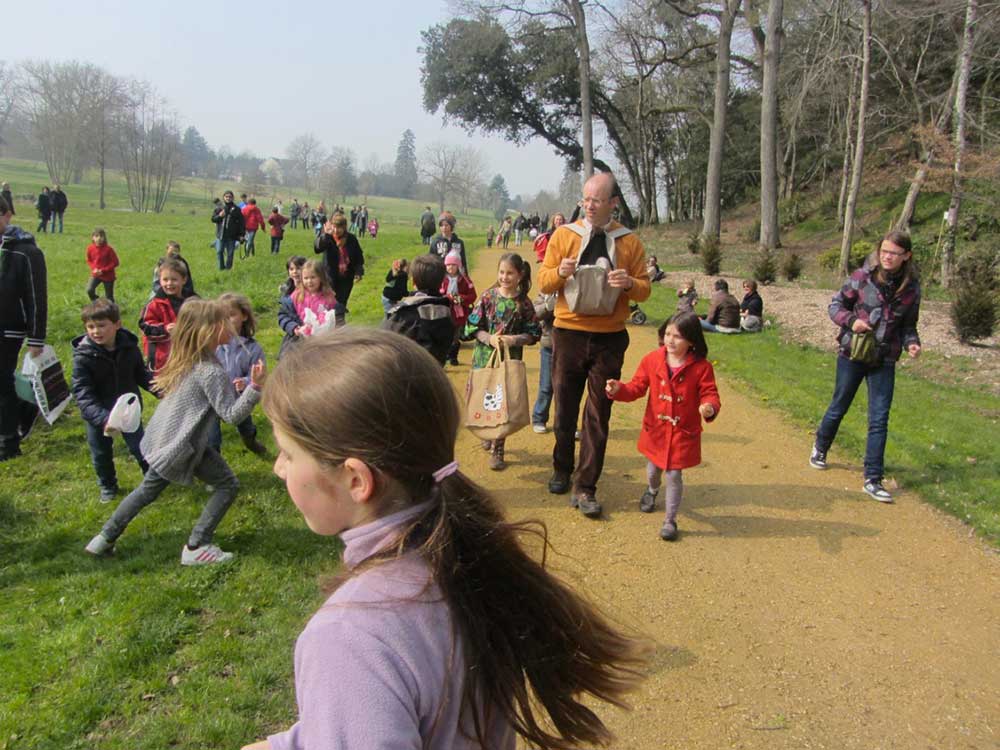 Bring your family to the Chateau de Brissac for an afternoon of tasty treats, play and cultural activities.
Each year, on the afternoon of Easter Sunday, adults and children can hunt for more than 50.000 chocolate eggs hidden in the undergrowth and gardens of the park of the chateau!
The chateau opens its doors to families to discover it's staterooms, historical bedchamber and theatre.
A drawing contest is organised in the grand gallery for all children.
To extend this relaxing family time, you will be offered a delicious drink of madeleine and grenadine syrup proposed.

From 2PM to 5PM.
Prices:  include in the entrance fee for the visit of the chateau and the park.
Adults 10€ - Children from 2 to 12 yo : 2€
It is not necessary to reserve.
Pour la première fois en Anjou, le Carnaval de Venise s'est donné rendez-vous à Brissac.
Venez revivre la Magie, l'Excentricité et l'Authenticité des fêtes Vénitiennes du XVIIIe siècle comme si vous étiez sur le bords du grand canal ou dans la salle de bal et le jardin d'un palais Italien.
Les après-midi du week-end de Pentecôte, le parc, les salons et les chambres d'apparat de Brissac accueillent 80 comédiens en costume d'époque et en musique pour une somptueuse reconstitution des grandes heures festives qui enchantaient Venise il y a 300 ans .
Danses en costume sur les pelouses, déambulations, saynètes et jeux de rôle masqués sont autant de surprises qui attendent les visiteurs au détour de chaque pièce « du plus haut château de France ».
Un tableau éphémère, comme un œuvre de la renaissance sublimée par le génie de Vivaldi et le talent des artistes de L'Association Internationale Art Fusion - Fugue Vénitienne.
De 14 heures à 17 h 30 (dernier accès).
Tarifs : 10 € - 4,50 € de 8 ans à 16 ans - Gratuit moins de 8 ans.
Il n'est pas nécessaire de réserver.
Les Montgolfiades
Saturday 17th August 2019
The park of Brissac welcomes our friendly pilots aerostiers time for a flight Saturday night from the lawns of the monument, at the feet of its impressive facades and 18 fireplaces!
Twenty balloons, weather permitting, take off in the sunset of this summer evening for a beautiful trip over the vineyards of Anjou and the Loire islands.
Opening grids at 6 pm - Free
For more information please visit: http://www.arcencieldanjou.com
Les journées du Patrimoine or European heritage days
21th & 22th September 2019
During the European heritage days, the mausoleum of the Duke of Brissac,
the emblematic neoclassical building above the park, will be open to visitors.
Special opening of the structures highlighted.
Opening times : from 10 AM to 5.30 PM (last entry)
Single reduced rate : 8,50€ - free for children under 18
No guided tours, free access to the park, (sorry, no animals)