The visit of the castle rooms is done in the company of one of our guides who adapts his commentary according to the age of the children. The guided school tour lasts about 1h15 (45 minutes for preschool students). You will then be free to continue the visit in the park, the underground canal and the stables.
---
Preschool, primary and secondary school
7,50€
---
High school and university
9€
---
Accompanying Adults
1 free adult for 15 paying children
---
We offer schools a visit specially adapted for primary and kindergarten children. The invitation to the Castle, named after this visit, will allow students to become familiar with the everyday life in Brissac over the centuries. When they visit the large living room, the dining room or the ceremonial rooms, they will be asked about the construction materials used, the usefulness of this or that utensil, the techniques of painting or sculpture, the heraldic terms. .. Thus, in the room of King Louis XIII, plunged into darkness, they will discover the lighting by the candlelight!
Adult groups
From 20 people and with prior reservation
Coach and tour managers, we invite your groups to spend a unique and unforgettable time at the Château de Brissac.
After a visit with stunning scenery and exceptional furnishings, the group is given a commented tasting of the wines of the estate in the Chateau's cellar, as well as a wide selection of books and souvenirs in our shop.
You can also plan a lunch in the Medieval Kitchens near a monumental wood fire! The medieval kitchens offer a moment of great conviviality around the chimney and the clear water well.  The menu is made up of local specialties.
Before leaving, the group can enjoy a digestive stroll in the beautiful park and the gardens of the castle.
---
Tour and tasting of the wines of the property
9€
From 20 people and with prior reservation
Free for the accompaniment and driver.
---
Tour and wine tasting from the estate in the cellar.
Lunch by a log fire in the Medieval Kitchens.
« Promenade » in the beautiful 200 acres of parkland
54.50€ VAT inc.
Menu
A Loire Valley pork specialty 
« Rillauds » served warm with crispy salad
Veal steak cooked in shallots and wine sauce from Anjou
The famous orange liqueur produced in Angers  
Red wine and rosé wine from Château de Brissac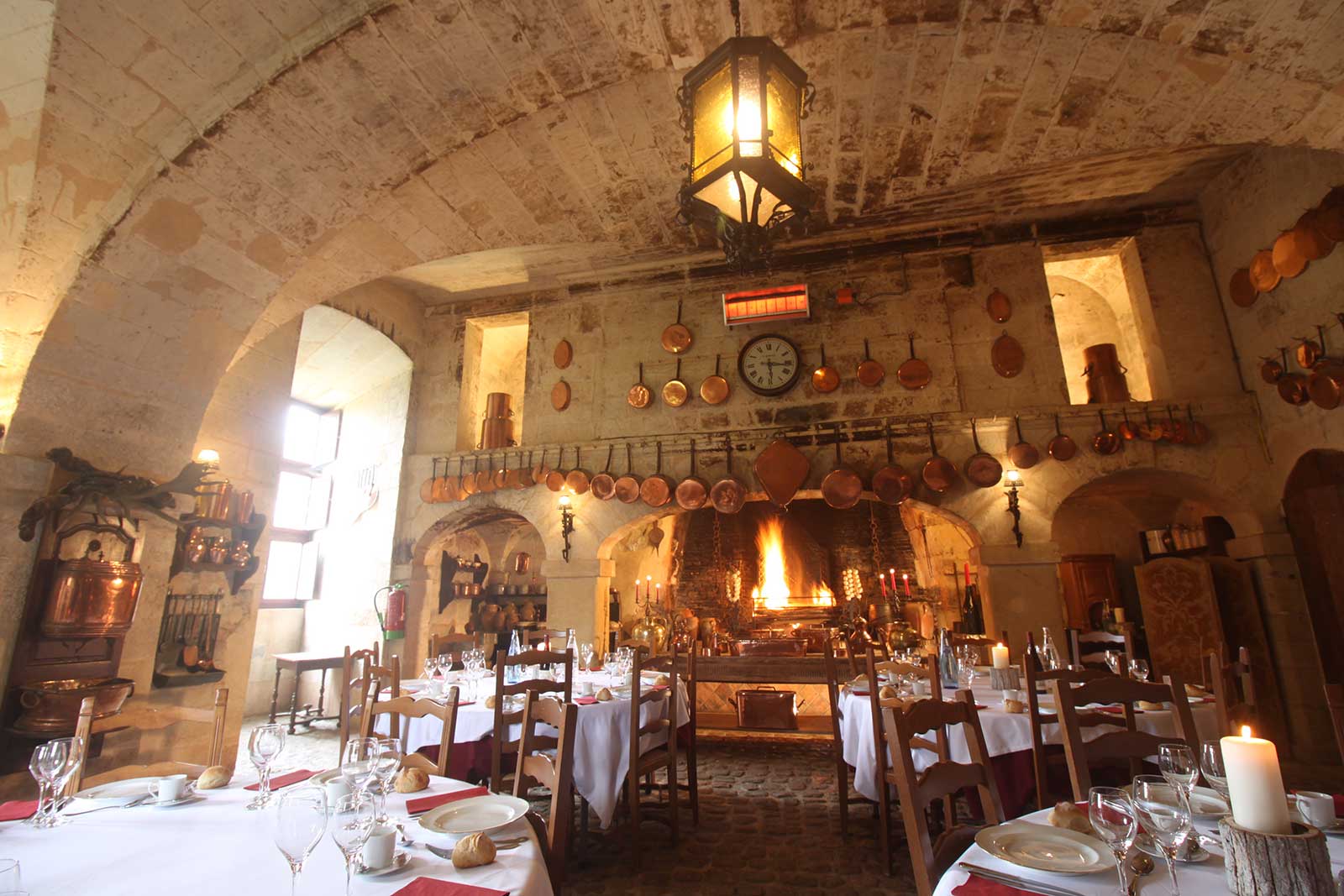 General conditions of sale and reservation for visits with lunch

The reservation will be considered as firm and definitive upon receipt of the booking form accompanied by the reservation deposit (definitively received), at least 20 days before the chosen date.
The exact number of participants must be confirmed 48 hours before the date chosen exclusively by email. After this period, the number of visitors invoiced will be that on the booking form.
The package with lunch in the kitchens is reserved for groups of 50 people maximum

If the group is less than 25 paying people, a minimum billing of 1350 € will be applied